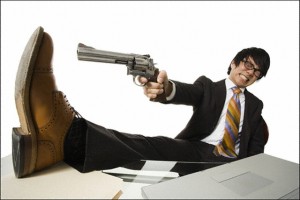 SaaS Startups – Don't shoot on your own leg
Startup's Vision blurred by non-business issues
SaaS companies are born with a vision of solving a unique business problem. The better it solves those problems the more successful it's going to be. But SaaS as a delivery model adds more technical challenges to these SaaS startups, which deviates them from the actual problem they were supposed to solve. For example, a HR SaaS product needs to focus all its effort and time on building compelling features to solve HR related problems and not problems pertaining to running the SaaS application itself such as tackling scalability, security, operational efficiency, monitoring, billing etc. Concentrating on these non-business issues not only pulls down the quality of the features but also heavily delays the company in reaching the market faster.

Don't start from rubbing stones to generate fire
SaaS has been in the market for quite some time and there are many solutions that are built with a sole purpose of solving these non-business specific technical problems of SaaS applications. The best way out for these companies is to adopt such technical solutions and integrate with them to solve these technical challenges. In our experience we have seen that this approach not only significantly cuts down the time to market but also off-loads the heavy need of continuously managing and upgrading these technical solutions.
Build All By Myself – can keep you busy but not brainy
SaaS startups who have failed to do this and gone in the route of reinventing the wheels have failed miserably not because they were not capable of building business features but because of the inability to tackle and manage these technical solutions cost effectively. From my experience the failure rate in this "build all by myself" route is almost 95%.
Go for time tested and proven solution
Being in this industry for almost a decade TechCello has identified modules/solutions that are usually required by any ISV who are in the process of building a new SaaS product. These solutions are domain agnostic and can be easily plugged in to any SaaS product.  Following diagram depicts these various modules in TechCello.
To learn more about these modules and see how TechCello can help you in this space please visit www.techcello.com
In case of any queries please feel free to contact me at [email protected]