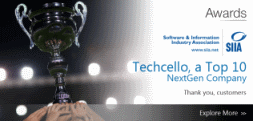 SIIA announced Asteor (Product: Techcello) as a Top 10 NextGen Company
After being shortlisted as SIIA's Codie Award Finalist, 2013, Asteor Software has been selected as one of the Top 10 "NextGen" Company by SIIA for its product – Techcello. NextGen companies are young businesses that offer disruptive, Highly Technical, innovative online software and services. They are chosen by a Selection Committee comprised of M&A, VC and industry experts.
Techcello is a cloud-ready, multi-tenant application development framework and it can save significant amount of time and effort in building a multi-tenant/SaaS product. "It is a great honour to be chosen as a NextGen company and we thank our customers and judges. This underscores the innovative nature and value that cello brings to our customer's development initiatives" says Shankar Krishnamoorthy, CEO of Asteor Software.
Shankar will join All About the Cloud, the software industry's most comprehensive ISV conference – to be held on May 7-9, 2013 in San Francisco.
About Techcello
Techcello is a cloud-ready, multi-tenant application development framework built on Microsoft .NET. ISVs, Enterprises and BPO/KPOs use Techcello to build software products and applications within .NET – better and faster. Applications built on Techcello can be hosted anywhere from public cloud (such as Amazon, Windows Azure) or private cloud to on-premise serves.
About SIIA's NextGen Program
"NextGen" is one among the many programs from SIIA to elevate and promote early-stage businesses in the SaaS and cloud markets and establish them as industry players. This unique program provides the opportunity for selected companies to gain exposure to executives from leading ISVs, resellers, platform and infrastructure providers, industry leading analysts, venture capitalists, and media. SIIA NextGen is a program for companies looking to gain industry exposure, secure funding, form strategic partnerships, gain new customers, or an exit strategy.
About SIIA
The Software & Information Industry Association is the principal trade association for the software and digital content industry. SIIA provides global services in government relations, business development, corporate education and intellectual property protection to the leading companies that are setting the pace for the digital age.