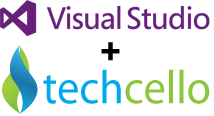 Support for Visual Studio 2012
Techcello's "Cloud ready Multi-tenant Application Development Platform" currently works as a framework package with Visual Studio 2010. It is licensed and installed on developer machines.
.NET Applications built using Techcello can be deployed anywhere from on-premise Windows Server Boxes to Public and Private Clouds. The binaries of the Techcello components are deployed along with the application.
Techcello does not create any run time container or application server. The run time remains .NET.
Microsoft will be launching Visual Studio 2012 very soon. And Techcello will support VS 2012 soon after it is released.