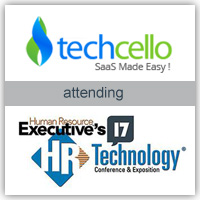 Techcello Attending the World's Biggest and Best Conference on HR Technology
Techcello, a pioneer in Cloud/SaaS development Tools and Frameworks is all set to attend The World's Biggest and Best Conference on HR technology – in Mandalay, Las Vegas this Oct  07-10th . We are primarily looking for Sales Partners, Resellers, Software Vendors, Solution providers throughout the world to work with us specifically within the Microsoft environment for the mutual benefit. CelloSaaS, a .Net based Multi-Tenant application development framework can help ISVs, Enterprises to build Cloud based SaaS solutions faster and smarter that can work on any cloud as well as on-premise.
Our current partners include HP, Symphony Teleca, Persistent Systems, Aspire Systems – are utilizing the Techcello framework as a potential turnkey solution to propel their SaaS development efforts as well as to reduce the overall engineering budget of their product.
Techcello has been recognized by Microsoft as a Finalist in "Start-up Cloud-Emerging Markets" at Microsoft WPC-2013, SIIA [Software & Information Industry Association], NASSCOM ("Emerge League of 10") and Gartner ("Cool Vendor") for its innovation in the Cloud and SaaS industry. We look forward to collaborate with all the Partners, Participants, Attendants, Visitors and Marketers who are planning to visit HR Technology conference this year.
Connect us @ HR technology:
To: Shankar Krishnamoorthy , CEO.
Takeaways: Understand the Unique selling proposition, Marketing Strategy, Product Strengths, Key Differentiators, ROI etc
Time&Date: Oct 7-10,2014.
Place: Mandalay, Las Vegas .
For Further Contact:
4819 Emperor Blvd,
Durham, NC 27703
Phone: 609 503 7163