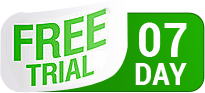 CelloSaaS Multi Tenant Framework Free Evaluation Copy
A free evaluation copy of CelloSaaS Framework ver. 4.1 is now available for free to download at Techcello. Developers and evaluators who want to evaluate the framework can have a look at the product without buying any license. The evaluation copy has the complete product functionality, features and modules. Using the trial package, developers/architects can go through the architecture, layers, configuration, coding standards and best practises etc of a multi tenant framework.
About CelloSaaS
CelloSaaS is a cloud-ready, multi-tenant application development platform built on Microsoft .NET. ISVs, Enterprises and BPO/KPOs use Techcello to build software products and applications within .NET – better and faster. Applications built on Techcello can be hosted anywhere from public cloud (such as Amazon, Windows Azure) or private cloud to on-premise serves.
Techcello provides complete freedom, flexibility and control of custom development, without vendor or platform lock-in and still saves you from all the complexities and cost overheads of building and maintaining your own engineering platform.
Techcello platform consists of all the basic engineering components & administration components in a ready to use form (API, WCF services and inheritable classes) so that application developers can focus on building their domain specific business features rather than engineering / multi-tenant features. To know more, click here to contact us