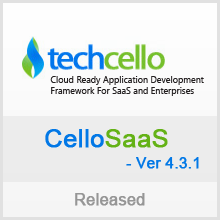 Exciting Features Addition in Cello ver. 4.3.1
We are extremely proud about releasing 4.3.1 version. It has several significance attached to this. There are number of newer features, enhancements associated with this release. Plus, it also caters to a wide set of user base:
While Techcello has all along been advocating SOA, this 4.3.1 version supports web services extensively. Almost all the features of Techcello business edition is moved to operate on web services mode. This makes life easier for our ISV product developers to simply consume Techcello services and not tightly link it with Techcello. It will help them to migrate their on-premise to SaaS faster.
Techcello has released a new feature – billing management. Now, as a SaaS developer, you can control the billing aspects easily and track your receivables. This will help you to manage your business more efficiently as your entire SaaS product is closely integrated with billing aspects. You can mix both online billing and offline billing to suit your customer payment choices.
Another major addition to the product is the customer dashboards. With this, ISVs can keep track of customer activities on your SaaS product – how many trial signs up, how many are nearing completion, their activities, churn, etc.
Plus, several enhancements to the product.
We are extremely happy about this as it will align Techcello truly with several of our customer's business life-cycle. We thank for the support and encouragement we have received from our customers and well-wishers.