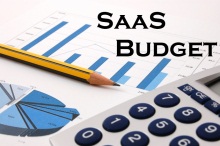 How good is your SaaS budget?
As you may have heard several times, SaaS business model is very different from the traditional on-premise model. But many a times ISVs tend to overlook these differences. One of the common mistakes that ISVs tend to do is approach the budgeting from a traditional model (one time licensing) perspective.
Let's look at a typical budget split-up for an ISV in SaaS model.
| | | |
| --- | --- | --- |
| Function | % Budget | Details |
| Sales & Marketing | 30% | Customer Acquisition Cost (CAC) including cost for marketing, branding and sales compensation. |
| Customer Service | 30% | Includes all the cost for delivering the service to customer, which typically includes hardware, license cost, tools cost, tech support and account management. |
| R&D | 15% | Includes the cost of engineering team to further enhance the product and add more capabilities that can increase the value of your product. |
| Administration | 15% | Includes the expenses related to general administration like HR, Facilities, Infrastructure and Finance. |
That leaves a 10% profit margin. While ISVs will be keen to optimize the spend in the above areas, the reality is they tend to overspend due to lack of proper planning. SaaS business model has inherent challenges, which has to be accounted in your planning.
Let's look at some of the typical areas that have to be taken care in your budget.
Function
Details
Sales & Marketing

Mass Marketing to reach out Small & Medium Business (SMB)
Cost for providing customer trials, evaluations, PoCs
Technical Support for pre-sales
CAC for Acquiring additional customers to fill the gap created by Churn
Cost of certification and compliances

Customer Service

Cost of infrastructure for hosting your product, including bandwidth, storage, back-up and disaster recovery
Cost of tools & software licenses
Training cost
Account Management cost
Technical Support to handle customer tickets
Cost of implementation
L1, L2 and L3 support

R&D

Cost of Development team
Cost of QA team
Performance testing
Load Testing

Administration

General Administration including HR, Facilities and Infrastructure
Recurring Billing and Invoice generation for customers
Handling invoice adjustments, discounts and offers
Payment collection and follow-up with customers
Tracking customer churn and continuous feedback collection from customers on the service rendered
Many of the items listed above may appear to be simple or trivial, but as your number of customers grows these are the items that will become a bottleneck and can seriously hinder your business growth.
Please visit the following webinar on Building a Scalable and Profitable Business Model , which talks about the challenges and solutions in running a SaaS business.
Cello offers a complete SaaS Life Cycle Management Solution that can significantly reduce the expenses in all the above areas. Cello has more than 30+ modules that address the common needs of designing, developing and managing a SaaS product/business.
Following are some of the advantages that Cello can bring to your SaaS business,
40% increase in trial conversions through customer analytics
50% reduction in implementation time and cost
60-80% reduction in tech support workload
SaaS Engineering Framework with complete support for Security, Scalability and Configurability; saving upto 50% on your engineering efforts
End to end automation of invoicing and payment collection
Overall 10X times reduction in operating expenses
Talk to our SaaS experts to help you in your SaaS Roadmap and budget. Please visit Cello website for more details. You can also write to us at [email protected] for more details.