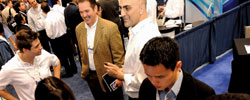 TechCello @ CloudConnect, Bangalore 2012
The year 2012 has been an exciting year for Cloud Computing technology. Some Research studies estimate that the adoption rate for Cloud and related technologies to be 50 – 60 % this year. Large IT giants such as HP, IBM, Microsoft, Amazon, Google etc are investing billions of dollars in this space.
After many successful editions in the Silicon Valley, CloudConnect came to Bengaluru – the Silicon valley and IT Capital of India. The event attracted IT experts, CEOs, CIOs and Analysts from across the country. Microsoft, HP, IBM, CA and many more vendors  show cased their products and consulting capabilities in this space.
Techcello is really proud to be part of India's First Cloud Connect. Ramkumar, Director @ Techcello presented a 30 minute session on "Multiple ways to build a Multi-tenant SaaS Application".
He talked about various alternatives and decision factors that needs to be considered while developing Multi-tenant SaaS applications for the cloud. The relative merits and demerits of using APaaS/VPaaS, Groundup Development and Techcello Platform were explained.
Some of the advantages of using a Cloud ready Multi-tenant Application Platform (on top of .NET) are :
Global support and a large eco system for the technologies used (.NET).
Predefined architectural and engineering blue print for building applications better and faster.
Freedom, Flexibility and Control of custom development without the complexities risks and costs associated with ground up development.
Negligible learning curve for existing .NET developers.
Uniformity and consistency in the way applications are engineered and built irrespective of the experience level of the developers.
Developers need not re-invent the wheel in building non functional requirements, engineering stack and plumbing stack features. They can instead focus only only on building the business functionalities.
Support for On-premise as well as Private and Public Cloud Deployment
Support for Application level Multi-tenancy
Support for Customizing and Configuring the application to suit the needs of different tenants (customers) while still maintaining a single code base.
Many architects and application developers appreciated the session and the unique approach that Techcello has taken.
Some of the Questions that came up during and after the session :
Technologies supported.
Interoperability with other technologies
Pricing Model
Applicability of this approach for a early stage startup.
Training / Learning requirements
There were many more insightful sessions where CIOs,. CTOs and Architects shared their real life experiences in adopting Cloud technology. One such example is the experience of Hexaware in implementing a Private Cloud.
The session by 8K Miles was quite engaging, particularly for the technical folks. Harish (CTO) talked about the design and implementation of a cloud chitecture for a massively scalable airline booking system. (100 million users in 8 hours)
Overall the event was very insightful and provided a good platform to collaborate.
To download the PPT of the 30 minute session presented by Ram Kumar at Cloud Connect, please click here.