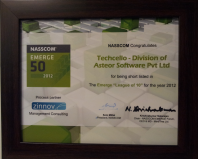 Techcello wins NASSCOM – Emerge "League of 10"
We are proud and happy to announce that "Techcello, the .Net based Multi Tenant application development framework" has won the Emerge "League of 10" in the 5th Annual NASSCOMM Emerge 50 awards for the Year 2012.
"We are thrilled to see Techcello maturing as a product and be recognized by peers & customers across the globe for the unique value proposition that we deliver in the Cloud – SaaS – Multitenancy space"  said Shankar Krishnamoorthy, President and CTO Techcello. This Nasscom award and the Gartner Cool vendor award that we received in 2011, is a recognition for Techcello's architecture and engineering approach that is quite unique, innovative and disruptive.
Techcello is used by ISVs, Enterprises, BPOs/HROs/KPOs and e-governance vendors to develop or migrate their .NET Product/Application to a Configurable, Multi Tenant architecture that can be deployed on any private or public cloud.
Techcello  gives them a head start  (30-40% saving in a typical project) with all the engineering and non functional requirements available as ready to use APIs and Services. Developers can focus only on building the business / domain specific features.
Techcello's architectural and engineering stack  can also be used as a common platform for multiple products and applications reducing TCO  significantly.
About NASSCOMM Product Conclave
The NASSCOMM Emerge 50 is an initiative by NASSCOMM a non profit Association for Indian IT and BPO Sector organizes a forum to appreciate and recognize emerging Indian companies across all business sectors. It has continued to encourage Indian companies to establish new business models, build innovative products and services or clocked fastest growth rates. The NASSCOMM EMERGE 50 awards for 2012 aims to highlight the next set of 50 emerging companies with the key objective of building the future companies for the country. "The leage of 10" among the Emerge 50 is selected based on innovation and growth potential.